The variety of the bricks produced at Chimot is demonstrated both by the small scale nature of the production and the number of references. In addition to our catalogue productions we also offer a new range of bricks of specific thicknesses that are greatly appreciated in renovations.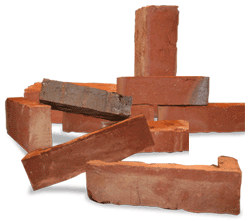 Colours
Because our products are baked in a Hofmann kiln at temperatures of between 1100 and 1200°C, they provide a wide range of colours extending from pale red to very vivid red, some colours turning out blackish red (over-baking).
Use of the bricks
Our bricks are used in numerous types of constructions, mainly for extensions of old buildings or in new buildings of the rustic type. This does not mean to say that traditional bricks does not blend in well with the contemporary style.
With Chimot bricks you can have any style imaginable…